Jennifer Roberts
Khandle in the Wind (Dionne)
Chesterfield, NH
I've had my horse, Dionne, for 5 years now. Two years ago I was seriously considering selling her. She was different, she hadn't been acting like the same horse that I had been riding and competing the year earlier. Her stride had shortened and she was beginning to bolt after jumping fences; showing her was now becoming a disappointing venture often ending in tears. I felt as though I couldn't depend on her, we would put down an amazing round, only to come back into the ring 10 minutes later and have her run away with me after the first fence.
No matter how much work we put into her, Dionne continued to worsen. She was looked at by 5 vets, each one putting the blame on a different body part. Dionne was injected, massaged, and put on various supplements; each offered a temporary fix, but nothing seemed to solve the problem. My family and I continued to become discouraged.
We decided to give it one more try by bringing her to Dr. Mike Davis. After a complete exam, it was discovered that Dionne had broken her knee. It was obvious to the vets that it was not a new injury. My horse had been jumping and competing on a broken knee.
She underwent surgery and a long recovery process. After four months of stall rest and hand walking, she was slowly brought back to work, with intensive follow-ups at New England Equine Medical and Surgical Center. We were gradually allowed to reintroduce her to jumping.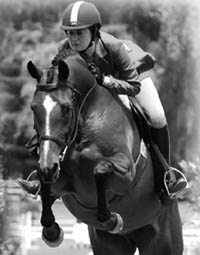 It was a long process, but Dionne is back! This year we competed at the Sport Horse Nationals in Lexington, VA and came home with three national reserve championships!
The staff at the New England Medical and Surgical Center have continued to help us through whatever arises. Two years ago, I never would have dreamed that I would still have Dionne, let alone be competitive on the national level again. I am so thankful for New England Medical and Surgical Center for their knowledge, care and support.
Sheryl MacLeod
Freemont, New Hampshire
Dr. Bartol treated my daughter Devon's pony twice for severe colic. Mystic Puddin is a wonderful pony who has won a lot of hunt seat and pony medal finals. The first time he had colic was in January 2005. He was very ill, but because he was 21 years old surgery wasn't an option. I felt he wouldn't have come through being that old. It was pretty dark for him for a while and he was at the facility for ten days. It ended up being an obstruction, which Dr. Bartol was able to clear.
Mystic Puddin got severe colic again in October and again we almost lost him. The second time we brought him to Dr. Bartol and she knew him and they all take such good care of him. Mr. Puddin has been wonderful since. We changed his diet and he has been on senior feed. This year my daughter has had a wonderful year with Mystic Puddin. They have been champion or reserve at every show we've been to. At the Cape Cod hunter show at Silver Oaks she was the champion. I don't think they lost a class.
Our overall experience at the New England Medical and Surgical Center was fabulous, wonderful. Dr. Bartol is a wonderful lady. She answers all your questions and calls you back. She will talk to you morning noon and night. She's very caring and kind and the new facility is gorgeous. It's nicer than a lot of human hospitals. I would definitely recommend the New England Medical and Surgical Center to others.
Tom Salmon
Shahara, 16-year-old Arabian mare
Barrington, New Hampshire
It was recommended that shoes be put on Shahara for summer use, but after they were put on she went lame. I had her evaluated and the angle of her hoof aggravated a situation she had all along. It was a ligament bone issue on the front leg. The veterinarian recommended that therapy be done, so we met with Trish. She recommended a course of shock wave therapy and topical medication. Shahara went through five sessions of the therapy through the summer and now she is back to normal. Trish was very helpful and very nice. It was a pleasant experience and she was always available to talk.