Imaging
Diagnostic imaging plays an essential role in the diagnosis and better understanding of most of what we do in veterinary medicine today. Staying on the so-called "cutting edge" is important, as the best technology in experienced clinical hands combines for the most accurate results.
At New England Equine Medical & Surgical Center, we provide perhaps one of the most complete arrays of diagnostic capabilities and have the knowledge and experience to know which to use in certain situations.
Our diagnostic capabilities include:
computed (digital) radiography,
digital ultrasonography,
video-endoscopy,
scintigraphy (nuclear medicine / bone scan),
CT (computed tomogragphy)
contrast-enhanced CT,
MRI (magnetic resonance imaging).
Completed imaging studies may be sent home with you on a CD for your records.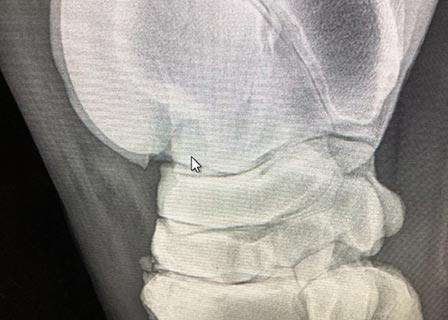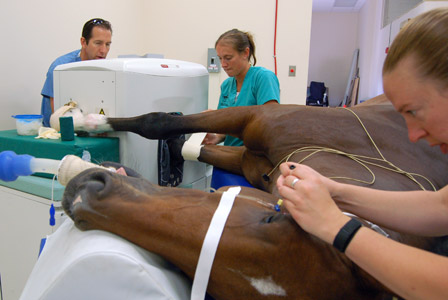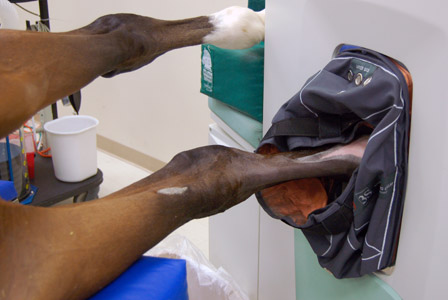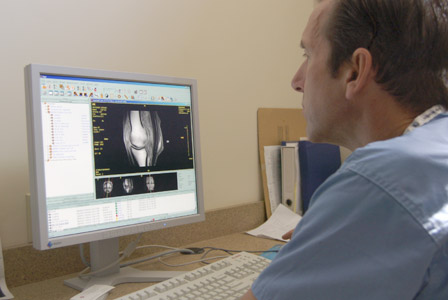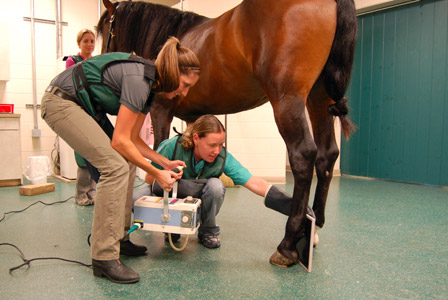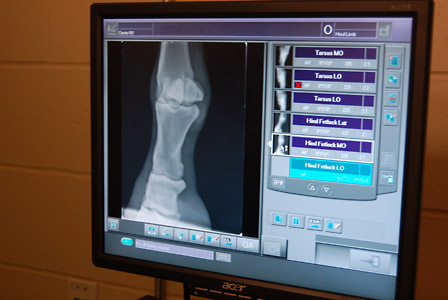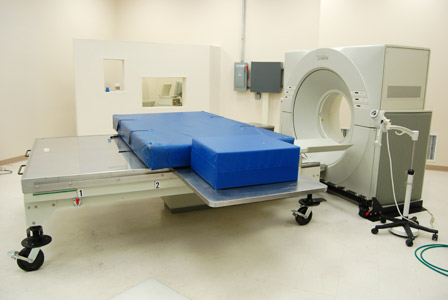 Computed radiography using handheld and large overhead radiology units allow ultra-detailed imaging for diagnosis of problems involving the limbs, chest, abdomen, back, neck, pelvis, teeth, sinuses and head as well as pre-purchase examinations.

We have 3 high-detail diagnostic ultrasound units that are capable of imaging tendons, ligaments, joints, the abdominal cavity, the chest, back and other soft tissue sites. We use this commonly in conjunction with radiographs to fully image a region.

Our three video endoscopes are used to visualize the stomach, esophagus, upper airway, lower urinary tract and other sites. Images are presented on a video monitor so you can see the process during the examination.
Scintigraphy (aka "bone scans") is an effective method to localize bone or soft tissue inflammation in the body as it relates to lameness. It is especially an important adjunct to evaluating the sport horse with back, neck or hip soreness. NEEMSC is proud to have the only bone scan unit in New England with a special motion correction capability, producing the highest quality scans.
Computed Tomography (CT) uses x-ray technology to create thin-sliced images of tissue (primarily bone) to evaluate complex fractures, sinus and dental problems, bone infections, bone cysts, etc. Three-dimensional imaging can then be produced through computer programs. Through use of contrast enhancement we are also able to identify and evaluate subtle soft tissue lesions, including ligaments and tendons.

Magnetic resonance imaging (MRI) is used to visualize detailed internal structures of the limbs for lameness diagnosis. MRI is becoming the "gold standard" in detection of soft tissue (tendon/ligament) injuries as well as bone remodeling conditions like navicular syndrome. Unlike CT scans or traditional X-rays, MRI uses no ionizing radiation.